8 Best Skin Whitening Soaps in India : Many people especially women use lots of creams, body lotions as well as face treatments to whiten their skin. A variety of these creams tend to be very harsh and may weaken or destroy the skin's collagen properties. When used habitually, they melt all the essential natural oils required by the skin and bring about a dry and rough skin texture.
Additionally, some body creams contains chemicals that possibly will react with weather conditions and cause further damage on the skin. A number of factors such as over exposure to sunlight, bathing water, temperature health conditions and many others may react with these body creams and face treatments to destroy not only your skin outer complexion but also your skin inner properties thus making your skin look dull, unhealthy and unattractive.
Fortunately, there are many soaps currently available in Indian that are endorsed by many skin therapists and a lot of women praise the great influence of these soaps on their skin. A few people tend to realize slight change after use, however, majority get best results after using one of these product containing natural whitening ingredients such as saffron, licorice or turmeric which gets rid of skin pigmentation, lessens tanning effects and gives the skin a perfect inner glow. Below are 8 Best Skin Whitening Soaps available in India.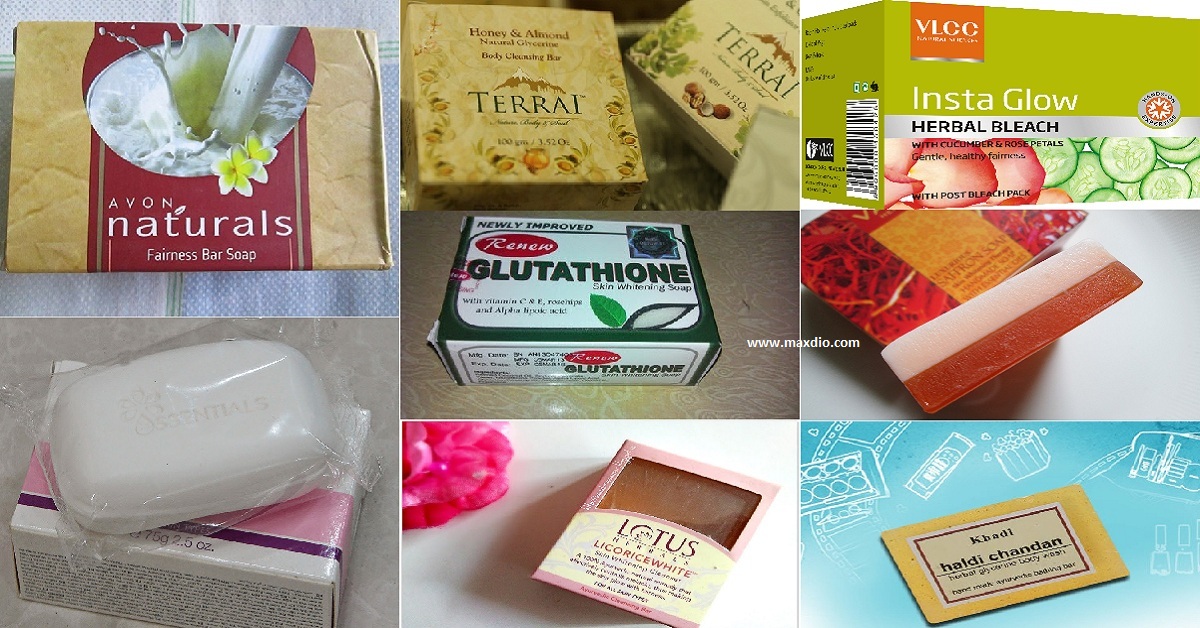 8 Best Skin Whitening Soaps In India
1. Avon Naturals Whitening Soap : Made up of pure natural ingredients, this soap will help improve and whiten your skin texture effectively. Avon Naturals soap provides gentle and mild cleansing that gives your skin a smooth feel without any soreness and irritation. Another advantage of this whitening soap is that It works effectively in all types of skins even the sensitive ones.
2. Oriflame Essentials Whitening Soap
This soap contains effective skin lightening ingredients including saffron and turmeric. The soap has a creamy soft and smooth touch making it perfect for winter and summer seasons. This soap cleanses and whiten your skin intensely with its amazing skin lightening properties.
3. Terrai Fairness Soap
Specially created by combining Natural Extracts and Essential Oils in an Indian Coconut Oil base, Terrai fairness soap is a skin remedy containing Zinc Oxide (ZnO) that is an effective skin oxidizing property and helps in formation of a skin fabric that protects the skin against dangerous sun rays. In addition, Titanium Di-Oxide helps in getting rid of skin pigmentation, blemishes and dark spots thus gives your skin a natural glow.
4. Renew Glutathione Whitening Soap
This soap helps in removing skin pigmentation like age spots, acne scars, freckles and dark circles and ensures your skin looks brighter, fairer and younger and smooth when used on a regular basis. Its ingredients are Vitamin C, Grape seed oil and Rose-hip oil which helps in protecting your skin from extreme sunlight harmful effects, prevent ageing as well as improves skin complexion.
5. Lotus Herbals Licorice Fairness Cleanser
The Lotus Herbal Fairness Cleanser stimulates the production and secretion of melanin in the skin which helps in making your skin glow and have a fair look all day long. This soap combines natural ingredients including manjistha and licorice which whitens the skin and removes all dark spots on your skin. Besides, Lotus Herbals contains sweet scent of fruits and flowers that gives your skin a fresh and enticing smell.
6. VLCC Insta Glow Whitening Soap
Apart from being used on your face, this soap can also be used on your body. It contains different types of natural ingredients which are effective deep cleansers. Furthermore, it adds skin moisture on your back and prevents skin drying agents. The ingredients used are soft and relaxing on the skin, and won't bring about any irritation. This soap contains basil, almonds and mulberry which works effectively in giving the skin a soft and fair touch.
Also See Top 6 Hair Growth Oils In India
7. Vaadi Herbals Saffron Soap
Enriched with the whitening effect of saffron as well as goat milk, Vaadi Herbals Saffron Soap helps in lightening and softening your skin and also gives your skin a perfect natural glow. Since it is a suitable skin bleaching agent, Goat milk lightens your skin and removes any dark spot. This soap is mild on all skin types and removes any blemishes and pigmentation marks.
8. Khadi Haldi Chandan Whitening Soap
This soap is enriched with sandal, aloe, lotus and turmeric extracts. It works flawlessly in getting rid of skin pollutants, bacteria and wrinkles. It also helps in treating skin complications such as pimples, acnes and blemishes thus imparting a natural glow and lightening effect on your skin when used on a regular basis.
Final Verdict
Generally, no soap can whiten your skin instantaneously unless it has harmful bleaching agents. You have to be quite patient with these Indian skin whitening soaps. However, these soaps will successfully remove any pigmentation on your skin and improve its texture without encountering any future harmful effect. If you actually want a smooth, lighter and whiter skin naturally, use natural body scrubs to exfoliate the dark dead skin layer. Ultimately, good diet together with proper skin care plays a major role in maintaining your skin's brightness and vitality.