Jewellery and ornament play an important role in enhancing the beauty and elegance of a woman. On one side women know the values of traditional wear and casual wear, and on the other hand, they know about different types of Indian earrings which will increase the standard of elegance and beauty as well as provide a greater level of self-confidence in her fashion choice and creating a distinct impression to other peoples. Like almost every girl emphasizes upon selecting a proper pair of footwear and accessories, which makes them more fashionable depending upon its colour, material and uniqueness of design and pattern.
Selecting and wearing a perfect earring which enhances a women's beauty in any aspect of her life. Any women cannot imagine herself without a pair of earring. Earrings are as much as important that most of the retailers are dealing with such commodities which provide ample of choices about its type, material, colour and sizes available in the market. On an average basis, the price of a pair of earrings ranges up to INR 10 to 7000 INR depending upon the material and brand offered by local retailers and jewellery shops in India. Women have a wide spread of demand for different types of Indian earring. Some of the types of Indian earrings are mentioned below:
Latkans
Want a casual look? Just add a slipper and pair of kurti wid a messy bun and add jhumkas to enhance your look. The enriched stones and beautifully crafted designs give a royal touch to your Indian look. If you don't want to go over the western outfits and want to keep yourself look casual, elegant and straightforward, you should go for a pair of latkans which gives enhances your beauty. If you are wearing sarees or ghagra cholis, latkans can go well with all kind of ethnic outfits. Latkans generally add ups your elegance towards your outfit. Latkans are generally made up of metal and decorative stones embedded into it which makes it distinct from other earrings.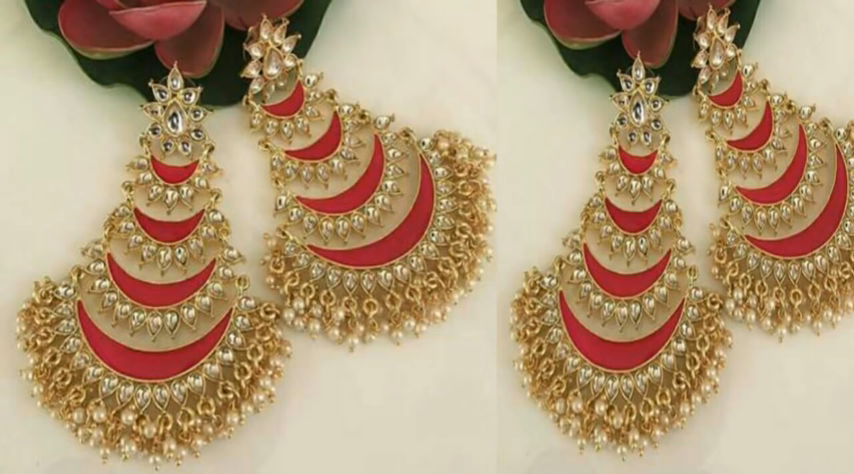 Jhumkas
If you are confused between the choosing of earrings you are willing to wear for a particular event then, jhumkas are one of the best options to go with it. These days, many colourful jhumkas are available in the market with regards to sizes, designs, a colour which attracts most of the women to take it up with their sarees, anarkalis and Indian Kurtis which will enhance the beauty of you and make you a style statement. The best things about it are they are available at low prices.
Ear Studs
Want to look different and stylish? Go for ear cuffs which will grab everyone attentions towards your elegance — gone those old days when Indian jewellery used to be big and heavy. The Indo western look provides another level of comfort while adding stars in your style. Like in the above-stated earrings, this is something different from other stated earring. As these earrings are so much convenient and helpful as it looks beautiful rather what you wear. The best way to use the ear studs with the suit and pants. This kind of earring is generally suitable for all outfits and is very much popular amongst girls. Ear studs are of lightweight and distinct about the shape and sizes available in the market. Such earrings are made up of metal with stones and pearls, which increases the elegance of a woman.
Chand Bali
This earring is one of the most attractive and beautiful amongst the other types of earrings. This earring is generally made up of gold, silver and rust metal which are of stunning designs handcrafted as it is one of the wealthiest old traditions of India. Chand Bali earring was made from Mughal or Nizams period. This earring is best suitable for a bride looking for the best earring and during festival times, women can opt for this. Especially the brides who want to look enriched in the gold pieces this would be perfect for them. Match your favourite pair of bangles and neck piece, and you are all set to rock.