Earrings are the best jewelry pieces to accentuate a woman's facial features. And in Indian culture, earrings have been worn by not only women but also men since ancient ages. Getting ears pierced at a young age by girls as well as boys have been considered an occasion of spiritual and religious significance. Even in the modern world, earrings are considered as one of the most vital jewelry pieces. These jewelry pieces are of immense significance not only for married women but also for unmarried women. Even with changes in generations and modernity taking place all around the world, earrings as an important jewelry piece has not lost its significance. In fact, wearing different types of earrings according to outfits has been in style.
So ladies! Don't shy away from wearing earrings. But before that, know about the latest trending earrings to get guaranteed compliments. To up your jewelry game for 2020, you really need to know about the latest trends in earrings. Gone are the days when a single pair of earrings can be worn be all outfits. Nowadays, different kinds of earrings are paired with different outfits. From cute lightweight hoops to blingy diamond earrings, different earrings are in fashion. And you need to pair up your earrings as per the dress you are wearing. Wearing trendy earrings will give you compliments from people around you. So keep your grandma styled earrings away, and follow the latest earring trends to become the fashionista of your town.
These are the 4 earring trends that will give you guaranteed compliments: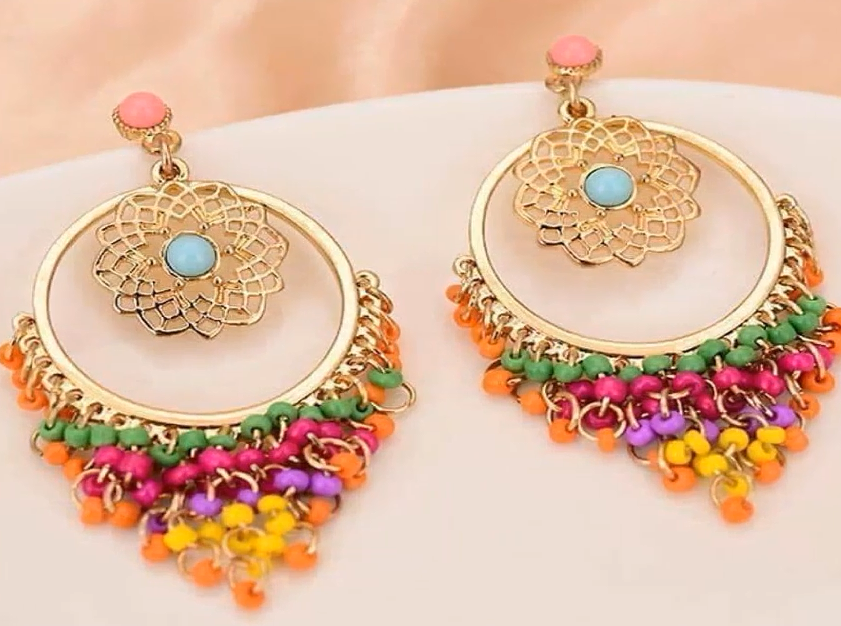 Pearl Earrings
These are the most classic earrings pieces that have been in fashion ever since earrings were invented. There's no way you can go wrong with pearl earrings. These earrings look best with all kinds of dresses. You can wear these earrings with ethnic as well as western dresses.
Ethnic Earrings
These earrings are best for any traditional and festive occasions. Wearing a big size ethnic earring will definitely give you amazing compliments. These ethnic earrings come in different shapes and materials. A big Jhumka like piece is great for a wedding or festival look. And the small chunky silver earrings are best for daily use. And it can be easily adorned with simple Kurtas for college going girls.
Hoops
These hoop earrings are the latest fashion staple. And these are especially in fashion now because they are worn by celebrities like Selena Gomez and Jennifer Lopez. Wearing the beautiful gold hoops will definitely give you the talk of the town look.
Studs
Studs have been in fashion ever since the beginning of the 20th Century. The studs can be made up of different precious and semi-precious stones. You can choose the shape of the stud according to your facial features. For example, a woman with the round shaped face can carry off a teardrop-shaped studs beautifully. Different shapes and sizes of studs are available in the market, for example, geometrical shapes, animals, stars, Diamonds, etc.
Drop Earrings
Wearing a drop earring can transform the look of any woman. It gives a feminine and magical look to the women. Drop earrings look classical and elegant. No matter how simple your outfit is, wearing a drop earring will glorify your look. But choose the shape of drop earring as per your facial features.
Picking a right earring can boost your look and personality. Choosing earrings according to occasion and events is an art very few women know. Sometimes choosing earrings can be a tough task. But if you know about the different types of earrings, making choices can be easy. So ladies! Don't get stuck with a single type of earring for your lifetime. Look around the market and choose earrings that can give a magical look to your beautiful face.