The Guide To Choose The Formal Attire For Women
It is generally assumed that styling a formal attire for men is easy. All they need is a good pair of a tailored suit and good shoes to get a good formal look. But Choosing a business attire for women is more challenging than ever. This is because women want to get a stylish as well as formal look. Thus striking a balance between style and professionalism can be tricky. But we are here to help you get that chick-boss girl look. From smart suits to pencil skirts, we will help you get a sophisticated and smart look for the entire week. Following is the list of Formal attire for women that you can choose according to the occasion and event.
Business skirts
This piece of clothing can give you a classy-feminine look. When buying a business skirt, keep in mind that it should fall just above the knee. And it should neither be too tight or too loose. You are free to choose the color as well as the pattern on the skirt. But try to coordinate your skirt with the color of your blouse or skirt. An A-Line skirt is the best choice for women, no matter if they are tall or short in height. So now you don't need to wear those black skirts every day. Experiment with the fabric, color, and length of the skirt.
Skirt-suit
This pair of clothing is a must-have in every woman's wardrobe. The skirt is mostly suitable for all kinds of business-related occasions. The most important consideration when you are going for a business skirt-suit is to pay close attention to the fabric, color, and the length of your skirt. It is advisable to go for a tailored skirt-suit as it can give you a more structured look. You can choose cotton and linen fabrics for the summer months and woolen and heavier fabric for the winter months. Complete your look with a good pair of pointed-toe heels, and you are good to go.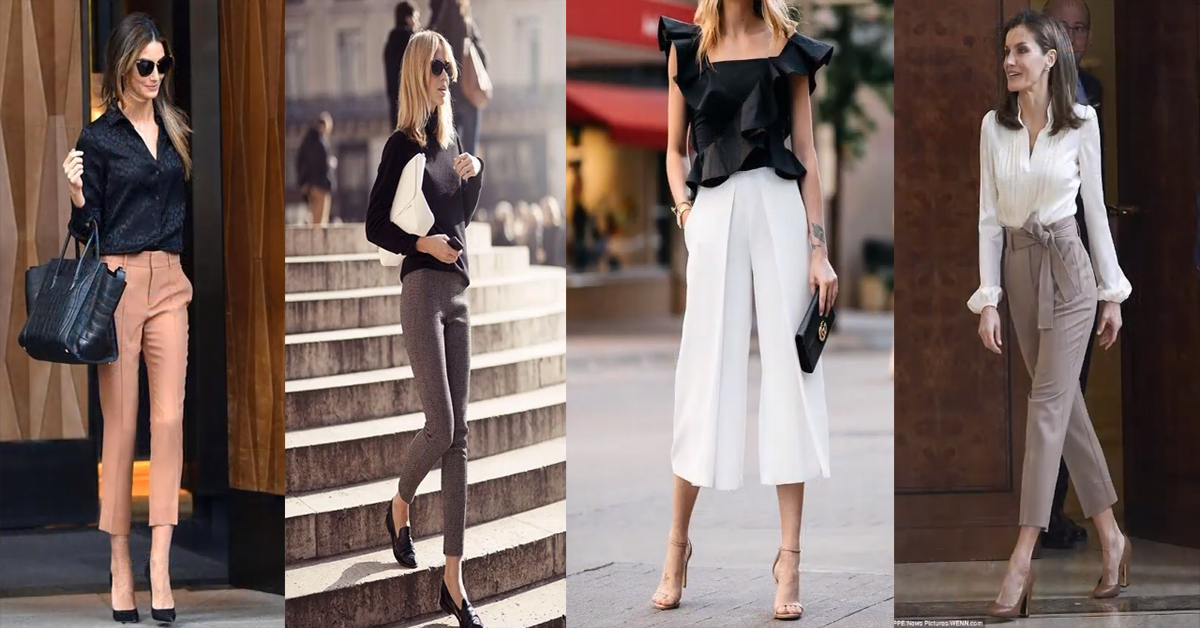 Pant suit
Wearing a pant-suit gives a sophisticated and sassy look to the women wearing it. The pant-suits comes in a variety of fabrics and colors. Go for lighter colors and fabrics for a day look. And for a night look, you should go for darker shades and thicker fabrics. Fit is the most important criteria when you are looking to buy a pant-suit. You can never go wrong with a tailored fit pant-suit. Your pant-suit should neither be too loose nor too tight. And the sleeves should be just the right length. So get ready for a crisp-looking pantsuit look on a Monday morning.
Shirts and blouses
The top you pair up with your pant-suit or your skirt should complement your look. If you are a bulky woman, you should choose shirts with lighter fabrics, or you can even go for sheer blouses. Choose a well-fitted shirt that isn't too fit or too loose. The color of the shirt should complement the color of your skin. Try to wear a shirt with vertical if you are a petite woman. Don't restrict yourself to any single print or fabric. Experiment your look with different fabrics, prints, and colors of the shirts.
Use this guide to create a business look for you. Wearing all these dresses will definitely give you a stylish and classy look in your office. So ditch your boring shirt and pants look for daily wear and choose all these dresses, and you are sure to get amazing compliments. Just pair up these dresses with classy accessories like earrings, and belts and you are good to go.
You go girl!! Climb up the ladder of success!!