Nothing comes close to a Necklace or a piece of jewellery when it's about a gift for a woman, and if she is an Indian woman, can you think anything better than a beautiful gold Necklace to woo her heart away? The history says the use of Gold jewellery in India started 5000 years back at the times of the epics Ramayana and Mahabharata. Both men and women used to wear heavy jewelleries like necklaces, earrings and rings. The Indian kings and queens were very much fascinated with the variety jewelleries. Not only that, Indian gold jewellery, especially Indian Gold Necklaces has it's own monopoly in the jewellery market around the globe.
As the time has changed, the designs, variety and usage of Gold jewelleries has changed a lot. Now when the women has set their journey out of the household around every corner of the world, the choices along with their lifestyle and habits has also seen a new era. The usage and demand heavy jewelleries and necklaces has turned into slick,light-weight fashionable jewellery which can be worn with any kind of apparel be it a saree or a pant suit office wear. Speaking of Gold necklaces in India, gold jewellery is not only considered mere ornament for women but also as investment, asset and sometimes thing to dedicate to the goddess.
But when it comes to the designs or variety, you are in a big puzzle. From traditional Rajasthani Kundan to diamond studded Polki,from temple designed necklaces of South India to Navaratna and Antique necklaces, the daughters of India love to groom themselves in gold necklaces. Especially when it comes to big fat Indian wedding, nothing can beat the preference of gold jewellery.
Variety
India is known as the land of diversity and mixed culture, choices, lifestyle and habit. Choice of jewellery also doesn't deny the fact. Be is South or North, East or West, different corners, community, religion has their own choice of jewellery especially for bridal. While the Southern part prefers conventional Temple designed heavy gold necklaces, the North brides are more into Kundan jewelleries.
Again nothing to say about the Meenakari gold necklaces and jewelleries from West Bengal. Choker, Seetahar,Chandrahar, Rani haar,Satlada,Navratan,Gulbandh, Bib necklace,Andh necklace,Guttapusalu, collar necklace are the most popular bridal necklaces across India. And, ofcourse,not to forget about the mandatory Indian bridalwearMangalsutra.
Modernization
Though the Indian dressing method is getting quite modernized and having more of a touch of westernization, the making of jewelleries are also having the same impact. From adorable couple pendant to diamond studded slick necklaces, from heavy Rani haar to statement gold and diamond necklaces, the Indian gold jewellery market has evolved into a new avatar.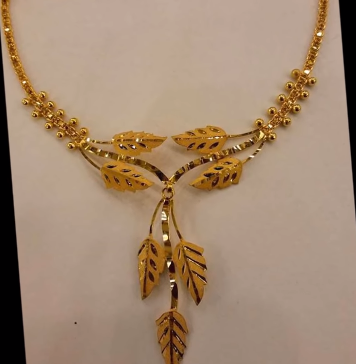 Celebslike it too
Be it a middle class girl or a celebrity like Deepika Padukone or Sonam Kapoor Ahuja, all the Indian brides wants their bridal jewellery to be unique and special without compromise. Deepika Padukone chose a exquisite Bib choker for her reception party designed by Abu janiSandeepKhosla, and a Kundan Necklace with meenakari for her mehendi.
Back in demand
Satladas from HyderabadiNizam tradition are back in business as this has become one of the highest demanding necklaces nowadays. Anushka Sharma chose to wear a Satlada with her polki choker on her wedding to complement her floral pink bridal lehenga.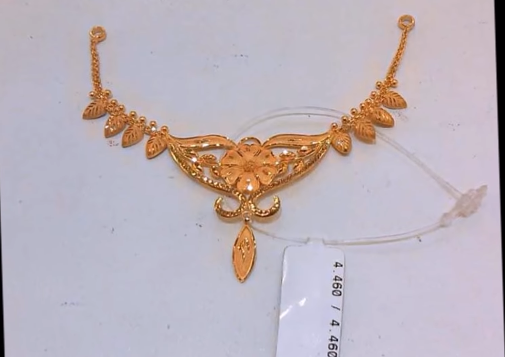 Get what you want
Again the jewellery customisation is also now in trend. Be it a simple aesthetic Om pendent for yourself or the favourite cartoon character face pendent for your princess as her birthday gift, everything is now one touch away for you with the online apps of all the Companies eases your process of purchasing.