Women and sarees are inseparable. The love and penchant towards sarees are inexplicable. India is a diverse country with many different cultures, traditions and values. But it is united under one custom- sarees. Women in every part of India love sarees and they can never replace it with any other thing especially during wedding. Sarees in India are existing from time immemorial. Many Indian scriptures describe Indian Goddesses in sarees. The beauty of a woman becomes whole only in a saree. The dream of every woman is to wear the perfect choice of her saree which adds grace and beauty and makes her wedding day the best day in her life.
Bridal collection
The bridal collection of sarees in India are so wide that it can take nearly 10-15 days to figure out which bridal collection you want to go. Each state in India has its own excellence in sarees thus making it very difficult to decide. The benarsi weaves and kora silk from Varanasi, pure chiffon and georgettes with gotapatti work from Rajasthani, chikankari and tepchi sarees from Lucknow, Uppada sarees from Andhra Pradesh, Kanchipuram silk from TamilNadu, Mysore silk from Karnataka, Bhagalpuri, lenin and handloom sarees from West Bengal etc are some of the classic bridal collections.
What to choose
As mentioned earlier it is very difficult to choose a perfect among these pure and perfect collections. The best way to select depends on the theme of the wedding. If it is a destination wedding then you can choose 3-4 varieties of sarees to wear for each occasion. But make sure that the colors you choose are not the same as repetitive colours do not grab the attention of your audience. A recent survey in India stated that brides mostly opt for Kanchipuram silk or benarsi silk during their Muhurat as these sarees are heavy in weight, have antique style work and also gives a rich look.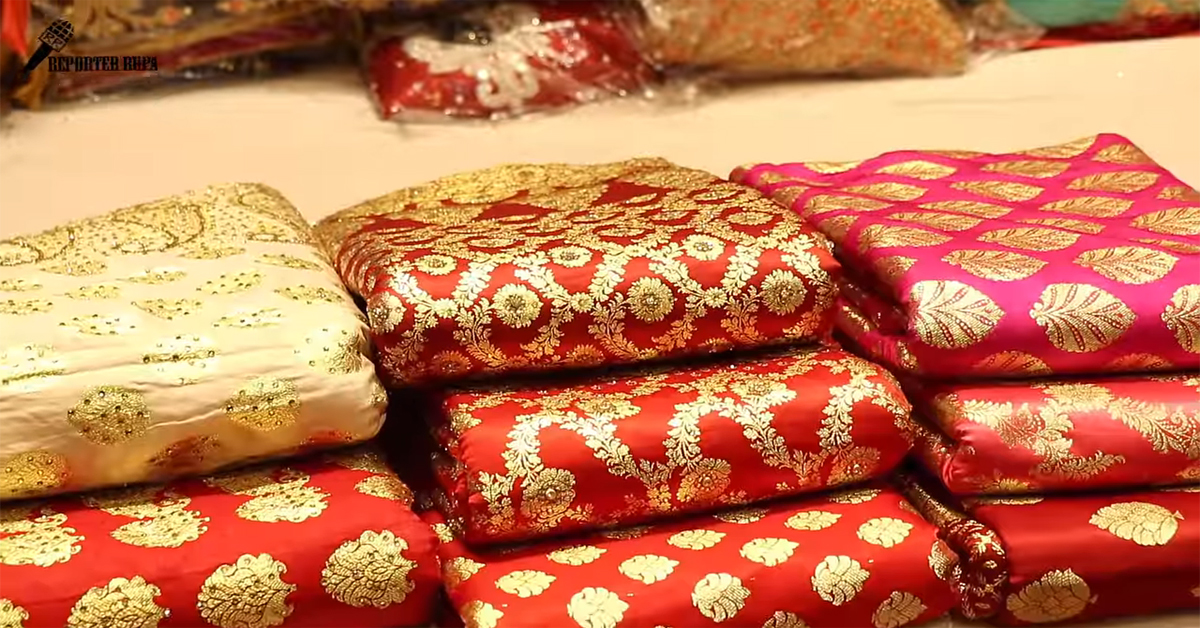 Fabric care
Fabric of the sarees plays a very important in deciding the type of the occasion. Silk is the most used fabric in weddings as it is light in weight, has bright colours, add rich look and highlights the jewellery worn. Most of the brides in South India prefer to wear silk types like Mysore silk, uppada silk or Kanjipuram silk for their wedding due to this reason. The current trend for sarees is the work blouses where a number of attractive works are being done on the blouses. These are very prominent among Andhra Pradesh and TamilNadu. The blouses have works of pearls, kundans, jewelleries like 1 gm gold coins, figures and figurines of Gods and Goddesses. These are called muggam work or aarya work blouses and are very demand and trending in the market. The cost of the blouse starts with a minimum amount of 5000 rupees and goes as high as 50000-75000 rupees. This is different with North India as chiffon, georgette and lenin are famous there.
Also check Indian Jewellery For Making Every Moment Precious And Special
Designer wear
Again, this is also one of the trending bridal collections now a days. Brides who want a customized bridal saree can go for this option as there are many renowned designer boutiques who can make designer sarees similar to the Bollywood style. Some of the leading Bollywood designers Sabyasachi and Manish Malhotra have their boutiques which provide bridal collection not only for Bollywood but for outsiders also. This option allows the bride to customize everything right from the fabric colour to the work to be involved. With these many wide options for sarees a wedding is sure to be a bride's day.