A skirt is not just a piece of clothing tucked around your waist. It is a dress piece that shows your elegant and feminine side to the world. Wearing a skirt gives you a stylish and classic look. No matter what age you are or which body type you belong, a skirt is a must clothing piece in every woman's wardrobe. There are more than 25 types of skirts that you can wear as per your body type and age. But today we will know about 10 different types of skirts you should know about. And if you own all these kinds of skirts, it's great! But if you don't have any of these skirts in your wardrobe, you should definitely buy them if you are a skirt lover.
A-Line Skirt
This style of skirt is called A-Line skirt because it looks like the alphabet A. This is a kind of skirt that looks flattering on women of all ages and body types. This kind of skirt is neither too long nor too short. You can wear them as formal wear as well as a casual piece. Pair your beautiful A-Line skirt will blouses, tops, T-Shirts or sweaters and you will look great in all looks. So next time you are confused over what to wear for a brunch date, just grab your A-Line skirt, and you will get amazing compliments from your partner.
Pencil Skirt
This is another staple skirt that can be found with almost all office-going women. This skirt gives a more formal vibe. But you can also wear them as a casual piece. All you need to do is to wear V-neck tees with your pencil skirt. And for a formal look, a well-fitted shirt or a blouse looks best. But don't forget to pair up your pencil skirt with pumps and a tote bag.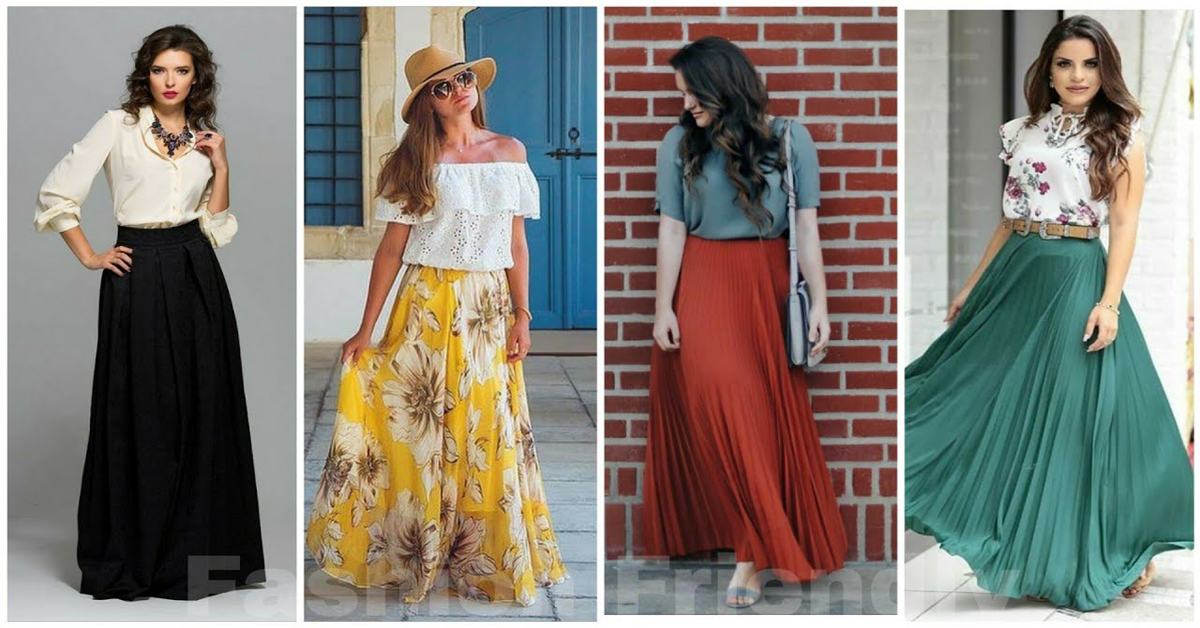 Mini Skirt
This is a short skirt that's above your knee. This skirt is mostly worn for casual occasions. To get a more covered look, you can wear tights beneath your mini skirt. And if you want to flaunt your beautiful, shiny, smooth skin, you can even wear a micro-mini skirt, which is a shorter length version of a mini skirt.
Draped skirt
A draped skirt is also known by the name Sarong, and it has fullness gathered on one side. You can pair up this skirt with a fitted crop top and platform heels or peep-toe heels. This skirt looks best for any casual occasion.
Trumpet Skirt
Just like its name, a trumpet skirt is shaped like a trumpet. This skirt looks best on women with a slim figure. The skirt is fitted near the waist, and till the bottom hem, and then it has flares. A mermaid skirt is also shaped like a trumpet skirt. If you have a slimmer waistline, you should definitely have this skirt in your wardrobe.
Pleated skirt
This is one of the trendiest and fashionable clothing pieces that was in trend in 2019. And this fashionable piece will be in style even in 2020. This clothing piece has a midi-length skirt, and the flare of the skirt are pleated. You can wear this clothing piece to any occasion you want.
Maxi Skirt
Every wardrobe is incomplete without a maxi skirt. These skirts have a conservative look, but you can style them up by wearing a spaghetti top and hoop earrings, and you will get the best stylist piece.
If your wardrobe already has all these types of skirts, you are already a fashionista. And if you don't have all these skirt types, buy them to change your look and to get amazing compliments from everyone around you.