Indian brides are incomplete without gorgeous apparels, incredible jewellery pieces, and a lot of beautiful accessories. Is there any woman, who doesn't like to adorn herself with impeccable jewellery sets? Almost every woman prefers jewellery and they choose the sets, as per their preferences. But, while it comes to wedding ceremonies, some heavyweight jewellery pieces complete the makeup of the bride. In fact, jewellery of a bride represents her beauty as well as inner strength. And so, all would-be brides make a lot of plans about her jewellery to make it the best accompaniment with her bridal outfit. Why not? Every bride wants to look perfect on her dream day.
Is your wedding day knocking the door? Have you already planned your wedding jewellery? But, it will be better if you check out the bridal jewellery options below. Thus, you can make sure of the complete bridal make-up at your D-day. Some jewellery pieces are must-haves in your wedding ceremony. These jewellery sets will enhance your elegance to a great extent. It might be necklaces, rings, earrings, or nose pins; bridal jewellery options are innumerable. You should opt for a beautiful and traditional set of jewellery to perfectly complement your personality. Definitely, these traditional jewellery pieces are evergreen and pass on generations after generation most of the times.
Choker Necklace
It's a mesmerizing piece of jewellery that will give you an outstanding look. Being a combination of traditional and contemporary jewellery, choker necklace symbolizes elegance and beauty to its best. It should be a must-have jewellery piece for every bride to complement their awe-inspiring outfit. This necklace piece goes well with lehenga, silk saree, Kanchivaram saree or any kind of bridal apparel.
While accompanied by perfect apparel. This necklace will enhance your appearance to a great extent. You can opt for a choker necklace of the spectacular kundan style. The multi-coloured gemstones and floral motifs are some of the features of this jewellery piece. Moreover, a classy pendant ruby stone further beautifies the necklace.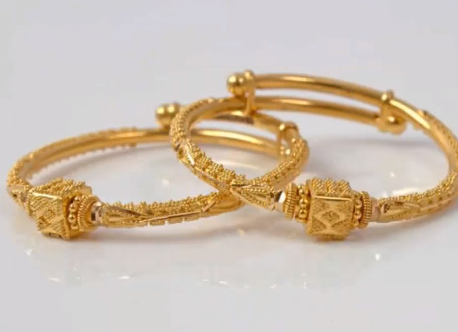 Bangles
Without bangles, a bridal jewellery set can't be completed. Gold bangles are the identification of a bride. Beautifully-designed bangles will not only enhance your beauty, but it will also be good for your health.
Opt for chunky kadas in case you're a Rajasthani bride. Moreover, the beautiful kemp style, along with multicoloured gemstones within Bezel setting jewellery piece, will nicely complement the traditional bridal apparel. However, you can choose some mind-blowing bangles for your wedding, as per your choice.
Nose Pin
It's one of the gorgeous jewellery pieces without which a bridal make-up might remain incomplete. However, some brides may not prefer it. But, if you're planning for purchasing a beautiful nose pin (as per the custom), go for an elegant nose pin but with a minimalistic design. It might be made of a tiny ring or stud, which will connect your earring with the respective nose pain.
Jhumkis
What are you thinking about wearing jhumkis or chandelier earrings? You'll get a unique and elegant appearance, which will further enhance your feminine look. Accompanied by a gorgeous Kanjeevaram saree, jhumkis will complete your bridal make-up. Moreover, beautiful chandelier earrings go well with lehengas. So, you can easily choose them for your reception party.
Raani Haar
Raani Haar should be definitely there in your bridal jewellery set. This jewellery piece will also provide you with a contemporary look to some extent. Thus, you'll have a tremendously beautiful look. Choose a Rani haar, which has come with intricate work. You can also contact an expert to get some help in choosing your bridal jewellery pieces.
Moreover, don't forget to choose a beautifully-designed ring for your wedding day. It can be minimalistic, but the size must be large.
Now, you're aware of some of the popular bridal jewellery pieces. It's high time to start selecting the jewellery sets for your wedding day.