Spectacular Half-Up Hairstyles and How to Make Them : Whether you have a medium or long hair, the Half-Up hairstyles will be perfect for you. Pilling some hair up gives your face a unique appearance at the same time keeping your shape and body in place. If you are longing to try a stunning half-up hairstyle, this step by step article combined with a clear and comprehensive video tutorial will guide you in your road to achieve desired results. Here are some amazing Half-Up hairstyles along with step by step process of braiding them to guide you through the process of obtaining complete and attractive hairstyles.
1. Softly Pinned Half Up : In this hairstyle, curls are attached softly, with less definition, thus adding a nice shape to your shape besides giving a nice flow to your hair. Pinning your hair gently will give your hair a little composure and balance at the roots. Softly pinned Half-Up Hairstyle hair will match all face shapes and hair types and it's easy to achieve because it looks natural. How to Style:
1. Begin by twisting your hair using a one and half inch curling iron, and add some spray wax to improve its texture.
2. Smoothen and draw your hair into sections and start pinning them close to your ears.
3. Pin your hair using bobby pins by moving your hair slightly upwards as you pin and add some sexy hair powder to stick the bobby pins.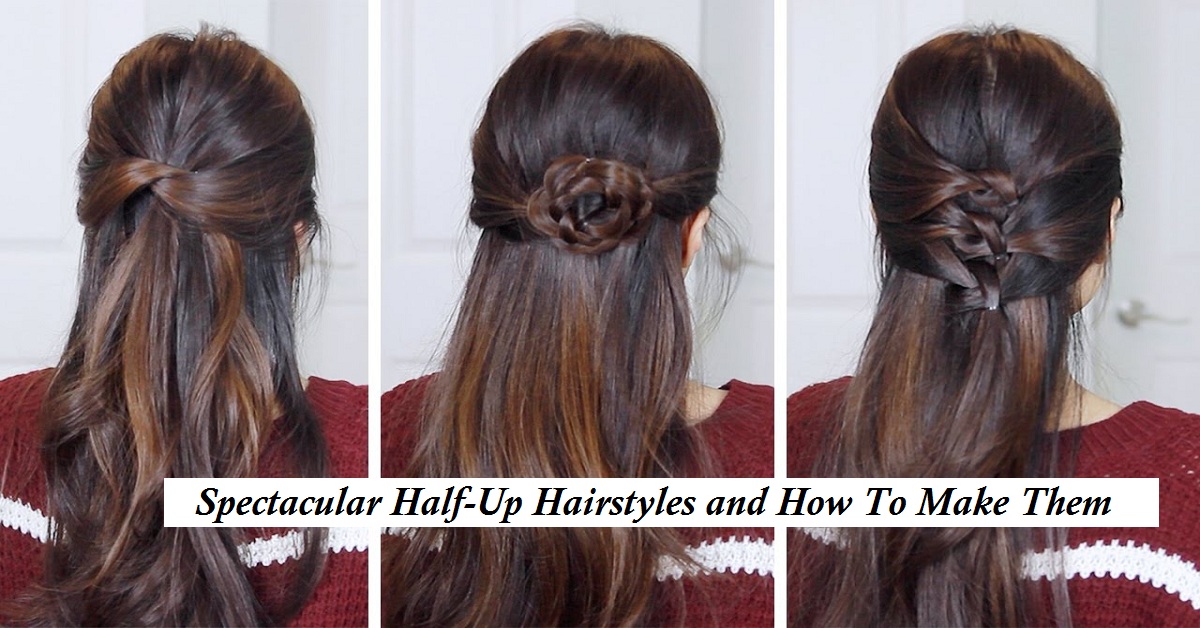 2. Excellently Editorial
This hairstyle is suitable for individuals with long and quite thick hair as well as a heart shaped face. This editorial look when matched with your casual outfit will display your beautiful nature or ornaments.
How to Style
1. Start by drying your hair.
2. Use a one and half inch curling iron to curl your hair.
3. After curling your hair, separate the curls using a brush of fingers to make them look natural.
4. Pile your hair on your upper head using a combing brush.
5. Amass half of your top hair and soften the sides and attach a bobby pin to the back or middle of your head.
6. Spray your hair using a strong finishing hairspray like the El Net Hairspray.
3. The Braided Babe
The Braided Babe style suits a round along with a thick hair with a natural wave, although both straight and wavy hair will match as well. If your hair is extremely light and are having difficulties in strapping tiny braids, it's recommended that you use a hairspray to squirt your hair before braiding them to make it firm and less slippery.
How to Style:
1. Start by drying your hair then separate it into five portions beginning from the left ear to the right ear, each portion approximately 1-2 inches wide.
2. Plait the two portions over each ear and tie the braid ends using a hair tie.
3. Comb the top and middle portion of hair backwards.
4. Amass half of hair on top of your head and make three knots. Do it by separating half of hair on top of your head into three segments and then tie them.
5. Use a hair to secure the half pony ends.
6. If you have a curly hair, everything will be easier for you. Otherwise, use a 1 inch curling iron to coil the remaining hair.
4. Cascading Curls
In Cascading Curls, braids are curled to give a cascading look. These types of curls will perfectly match an oval, heart shaped or squared faces and both medium and thick hair. However, individuals will round faces should avoid using this hair style since it adds more breadth to the sides.
How to Style
1. Curl your hair completely using a one and half inch curling iron.
2. Braid the hair close to your ears.
3. Pin your hair crown into an elegant shape, then continue pinning up curled hair to one side and pile them downwards.
4. Finish by spraying your hair with hairspray.
Final Verdict Of Spectacular Half-Up Hairstyles and How To Make Them
These Half up hairstyles are ideal for casual and formal events. Though they look complicated and other people may think you spent a lot of time on them, they are apparently very easy to braid. Also, you can choose the style that matches your face shape, type of hair or even the type you prefer most. These hairstyles have received heaps of praises, so trying it will give you a unique and attractive look that many women dream of.