Dressing up in winter can be quite tricky as you have to layer yourself with different pieces of clothing. But winter is a beautiful season because you can wear all the comfortable and furry clothes and no one will judge you for your weight. But why not make this season a stylish season? Winter is the best season to experiment with your style. You can wear an endless amount of clothing in winter, and you can easily learn to mix and match different clothing types. So if you need a few inspirations to layer yourself up in winter, we have got you covered. Look at the following winter outfit ideas for women:
Casual winter outfit
You can experiment endlessly with your casual outfits in winter. You have lots of options in layering as far as casual dresses are concerned. To keep your legs warm, pair up your skirts, jeans, or trousers with thigh-high boots, and you have got all covered up. In addition to keeping you warm, this look will make you stylish and chic. For a more casual look, wear a hoodie and pair it up with cute sneakers to get a cozy winter feeling.
Formal winter outfit
It is easier to dress up for office in winter months. This is because the more covered you are, the better it looks on a formal occasion. The best formal outfit for winters is a pant-suit. And the pant-suit look will never go out of style. For a bit casual look on Friday evening, you can also go for trench coats and killer heels. If you want to get a girly look, pair up your pencil skirt with a blazer and stockings for a warm and stylish day at work. There are hundreds of choices when it comes to wearing blouses in winters. You can go for turtle necks and solid-colored blouses with thick material.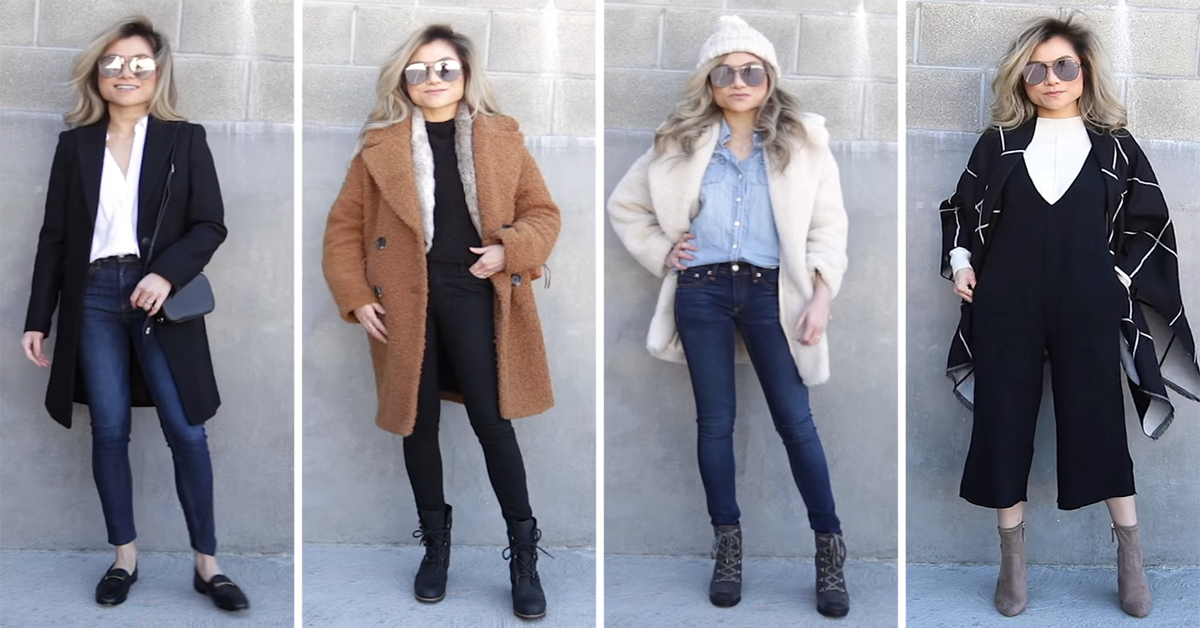 Photo Credits : Miss Louie YouTube Channel
Cute winter outfit
Who said you couldn't wear dresses in winter? You can wear beautiful dark-colored dresses in winter. Achieve a cute look in winters by pairing up your skater dress with thigh-high boots. Obviously, you will feel the winter chills. But who cares!! At Least you will look the best. To get a more cozy look, you can wear biking shorts beneath your dress to be more comfortable as well as stylish. If you are a more adventurous person, you can even go for mini skirts paired up with high heels and a matching long coat.
Hot winter outfits
Who said that you couldn't look hot in winters? Obviously, you can. Just wear a trench coat and pair it up with a belt. A closed trench coat makes people wonder what's beneath the skin. Complete this look by wearing leather boots or animal print boots. For a sexier look, you can even go for a fitting velvet black dress, paired up with thigh-high boots.
Partywear outfit
Winters are all about parties. There's Christmas party, New Year's party and lots of birthdays. So why close up in your room when you can flaunt yourself in sexy party outfits in winters. A Little Black Dress is always great. Just pair it up with glittery heels for that hotness. For the Christmas party, wear a floor-length red dress and give that Christmas vibe at the party.
So with these outfit ideas for winter, you are ready to beat the winter chills by being stylish and sexy. So this winter experiment your look with the above-mentioned winter outfit ideas. Go for as many colors and patterns as you want. Winters are all about chilling and being stylish. Happy winters!!