It's not possible to imagine Indian ethnic apparel without salwar kameez. You can choose these beautiful outfits for any occasion. Different designs, patterns, and colors are available in the market. From traditional one trendy, salwar kameez can be preferred for regular office wears, traditional occasions, or parties. Some of the evergreen salwar kameez styles include Straight long, Anarkali, A-line, and so on. Nowadays, women also prefer asymmetrical short kameez accompanied by Dhoti salwar. So, if you're in search of a combination of traditional and modern ethnic wear, salwar kameez should be in your list. It's time to find some best options for you.
If a party or wedding ceremony is appearing soon, you should choose a gorgeous salwar kameez. But, even a lot of fashion conscious women get confused while it comes to selecting the most suitable set. However, if you're a readymade garments' shopper, you should opt for some mind-blowing designs. Thus, you'll be more likely to draw the attention of more and more customers. Some popular designs for salwar suit include anarkali suits. palazzo suits, salwar suits, straight suits, patiala suits, etc. You can consult a fashion designer to find out the most appropriate design for you. The next segment is dedicated to some popular types of salwar kameez.
Bell Bottom Style
Being a popular choice of the nineties, this style has made a comeback. Bell Bottom Style is preferred by a lot of women throughout the country. It is both elegant and comfortable. Flat sandals, jewelry, and bangles will be some great accompaniments with this style. This gorgeous looking salwar kameez can be easily chosen for any occasion and festival.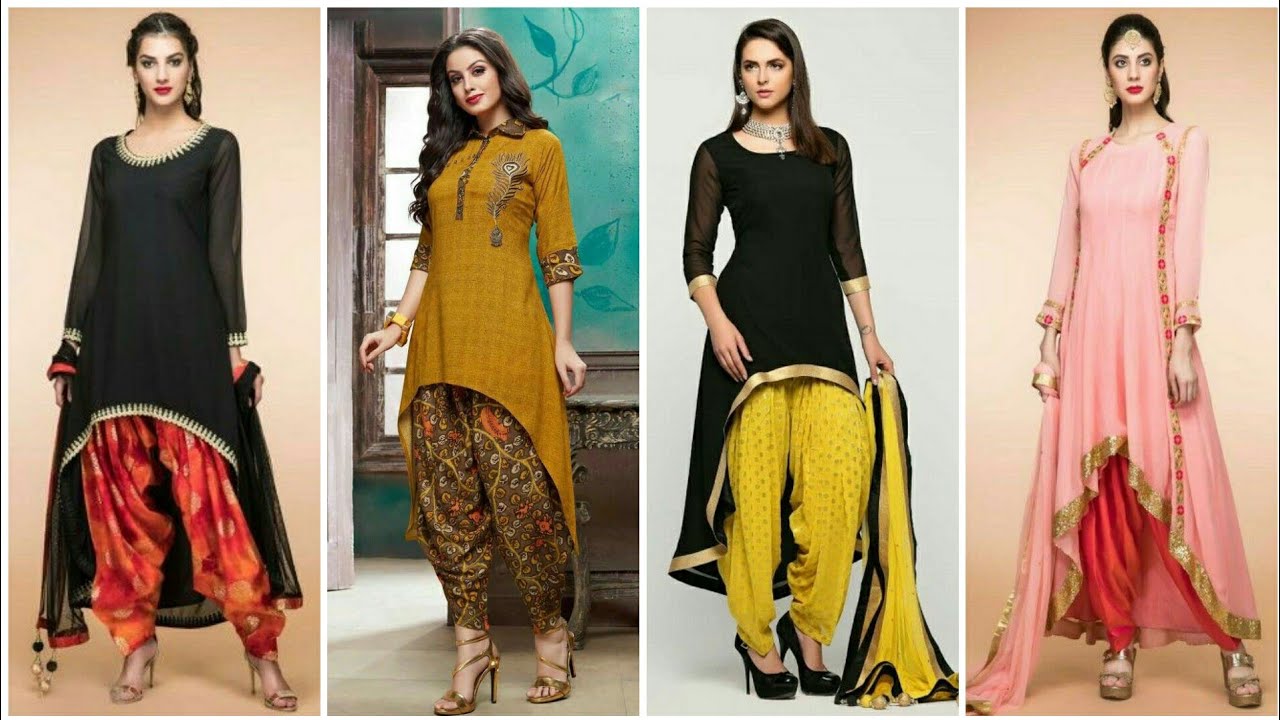 Dhoti Style
A lot of young girls prefer this style. But, it's not a new style, rather a traditional outfit. Being comfortable wear, many women go for this style for get-togethers. Moreover, you can opt for this Dhoti Style salwar kameez for your office events. A beautiful bead necklace and a small handbag will go perfectly well with this set.
Patiala Style
Being considered among the most attractive, comfortable, and evergreen styles, Patiala Style is preferred by a lot of women of all ages. It makes a great choice while it comes to day-to-day apparel. Nowadays, a great combination of traditional design and modern style can be seen. Maybe at home or office, the Patiala Style looks wow with the accompaniment of medium or short kameez or kurtis. You can complete a Patiala Style salwar kameez with a gorgeous set of earrings, stilettos, beautiful bracelets, and a silver necklace.
Palazzo Style
It was a trend of late 1960-70s. But, this style is again gaining popularity in India. The style is considerable comfortable. And a wrist-watch will go perfectly well with a Palazzo Style salwar kameez. Moreover, it will add a contemporary twist in such an evergreen style.
Sharara Style
This style has come right from the Mughal Era. It's an amazingly beautiful style, which can improve the grace and elegance of the wearer. You can choose a Sharara Style salwar kameez for a wedding ceremony or any other occasion. Silver jewelry sets and stilettos will go really well with this style.
Straight Salwar Kameez
It's a classy amalgamation of traditional and contemporary styles. Moreover, it's also in trend. You can opt for this style for any family get-together, parties, or office wear. It's available in plain, printed, and light embroidered. Based on the purpose, you can accompany this style with matching accessories.
Wrapping Up
This list is not comprehensive. Rather, a lot of other styles are available. Salwar kameez is actually an evergreen outfit, and you should have some collections of multiple styles.