Who doesn't love jewellery? The art of beauty is a thing forever. They say diamonds are a girl's best friends but I say it is indeed Jewellery which is a girl's best friend. Jewellery adds grace to our dressing and accentuates our overall look. In fact, there are a wide range of jewellery especially in India designed for every occasion which has been passed on by our ancestors for generations. Whatever the type of jewellery, India is a land of fortune which considers Gold as an auspicious sign and symbol of Goddess Lakshmi.
As stated above each state in India has a signature mark of their own jewellery passed on by generations. For instance, there is Meenakari jewellery in Rajasthan famous for these intricate kundan work. Hyderabad pearls are one of the finest qualities of pearl that the history has ever produced dating it back to the Nizams time. Kaasumaala – a jewellery made up of small coins of Godess Lakshmi is considered to bring health, wealth and prosperity in many regions of Tamil Nadu. The kemp jewellery embedded with rubies and emeralds speak volumes about the richness of Andhra Pradesh.
Antique Jewellery
One of the leading types of jewellery that is trending on every social media platform ranging from FACEBOOK to Twitter is Antique jewellery. These types of jewellery are designed on the concept of antiquity and have figures of Gods and Goddesses on them. They come in a wide range of combos. Most of them have Goddess Lakshmi dollar or coins. These types of jewellery have long or short pearl chains which adds value to the antiquity. These are mostly worn during weddings and other auspicious occasions. One can also witness these antique jewelleries in some of the temples in India where the idols are decorated during the festive season.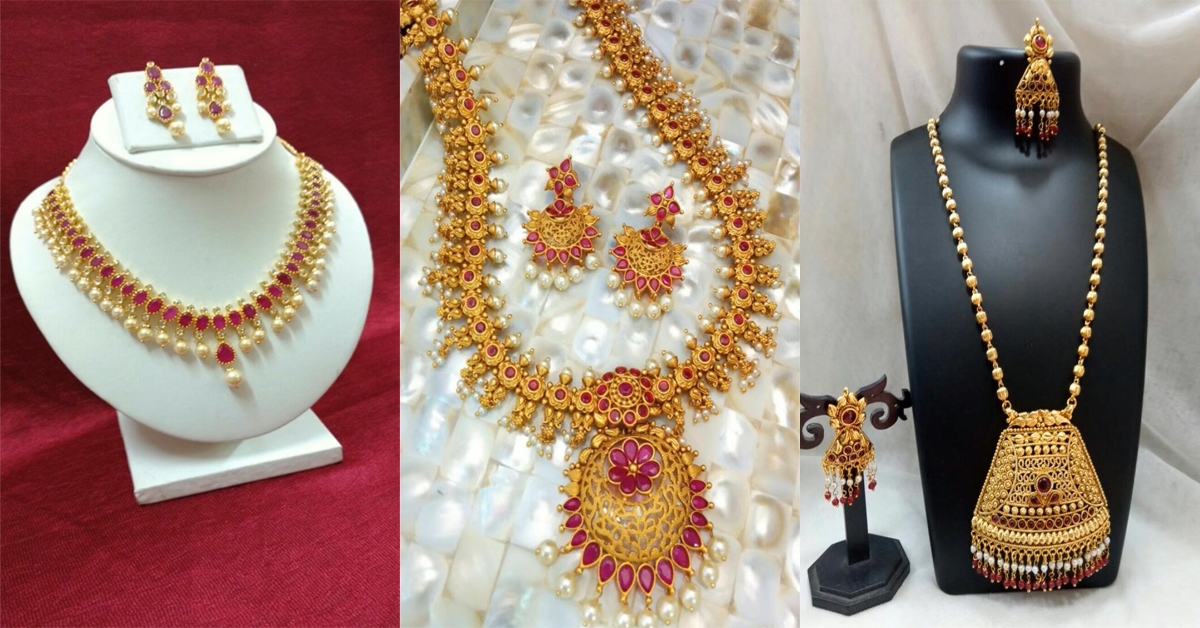 Temple Jewellery
This concept has been brought back from the past and the most widely sought out one after antique jewellery. This is more or less equal to the antique jewellery except for the fact that more weightage and importance is given to the main theme. Unlike antique jewellery, these are heavy in weight and are mostly made up entirely of gold without any addition of pearls. One of the beauties of temple jewellery is that the combo the stones it has speaks volumes about the workmanship.
Check Top 10 Bracelet Brands In India
Kundan/Stone Jewellery
This is a trendier model that is worn by kids and people of all ages. It has a combo of emeralds, rubies and pearls along with the gold which give a simple yet elegant look. This type of jewellery is not heavy and generally comes in various sizes ranging from small to big. Some of the jewelleries worth buying in this type are kada (bracelet), hip chain, earrings, layered necklace etc. This type can also be customized with variety of options. Kids find this to be more attractive as the colours are appealing as well the work is kept minimal.
Which To Choose?
Having many options to choose from is very exciting and exhausting at the same time! There are many more varieties of jewelleries apart from the stated ones above. Choosing one which suits you might be time consuming but it is worth your time. Choose your jewellery according to the occasion, what you are going to wear, whether or not it goes with your hair style. Once you decide on these three factors choosing the best jewellery which highlights your beauty and make up will be a very easy task. Hope this will be of help to you! Go ahead and start shopping now!