Shrugs are mainly used for two purposes- to keep yourself a little warm and to show off whatever design the shrug has. That's why shrugs are worn by Indian women mainly during the onset of winter. Shrugs come in a variety of styles ranging from short ones to knee-length ones. Some have printed on designs, while others have frills, etc. But the main advantage of a shrug is the versatility of it all. You can pair a shrug with a cocktail dress or with a combo of casual jeans and t-shirts.
Expanding on the above point, shrugs are available in a lot of different styles and shapes. This ensures that there's one which you can wear to every kind of occasion. For those wondering if shrugs can be paired with ethnic salwar Kurtis, the answer is yes. You can pair up a shrug with the salwar Kurtis and more. We bring you the different types of shrugs available in the market so that you can choose for yourself what suits you the most. Want to dress up like Bollywood star and flaunt your style? These shrugs will help you do that.
Fringe Shrug
Fringe Shrugs go best with narrow bottom style jeans and hot pants. Wear a chic t-shirt and you are all set for a casual outing with your friends. Fringe shrugs are found indifferent styles ranging from embroidered ones to simple plain ones. Here's what we would have gone with- denim pants, a solid white tee, and a navy blue shrug. This is the classic combo that always works.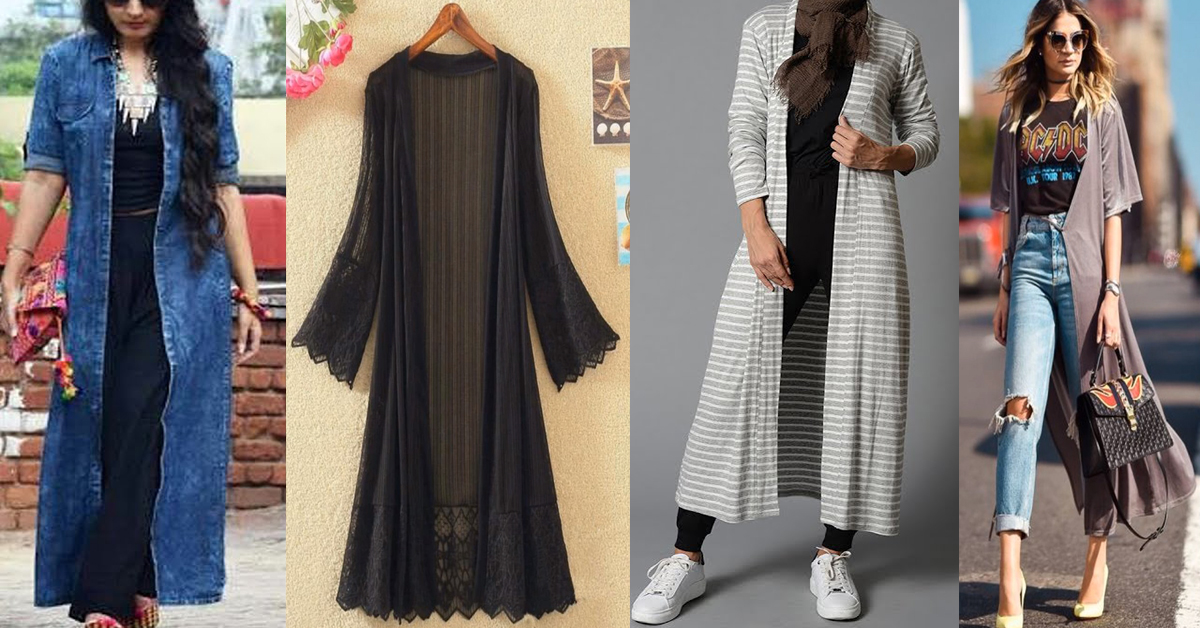 Maxi Shrugs But With Side Slits
These shrugs jam well with midis and crop tops. This will give you a sophisticated look while ensuring that you become the center of any party you go to. Apart from crop tops and midis, you can also pair maxi shrugs with A-line skirts or with denim shorts as well. Throw on a white T-shirt and you are good to go.
Lace Shrugs
We will be honest with you, lace shrugs aren't that easy to carry. But if you can then these shrugs will allow you to look unique and smart. Pair these shrugs up with tank tops and jeans. Lace shrugs will be comfortable during the hot summers but make sure you pick the right color to go with it. If you are sure what colors would be right for you then search around a little on the internet especially on Pinterest.
Waterfall Shrug
Waterfall shrugs are pretty common and most Indian women either have one or have at the very least, heard of one. Waterfall shrugs work well as party wear. These shrugs come not just in different styles but also different fabrics. You can find shimmery Waterfall shrugs or even leather made ones. Pair these up with leggings, boots and a chic top to turn everyone's eyes on you. Another way to wear maxi shrugs is with a sleeveless top and denim jeans.
Dolman Shrug
Dolman shrugs come with sleeves that work to protect you from the cold. But more importantly, these give your outfit a very chic look. In our opinion, these work well with Capri jeans and dresses or a-line skirts. Dolman shrugs will make you look sophisticated but also casual. To be honest, these shrugs go with anything. You don't have to buy anything to wear with it.
These shrugs can be paired up with everything. It just takes a little color coordination and a little creativity. So let your ideas fly or try out Pinterest for ideas.