The way people dress tells a lot about them. It tells about the personality of a person. When a person is dressed well then automatically they gain confidence which impacts the way you communicate with others. Dressing up and styling yourself in a good manner reflects the self-love and self-care. Many surveys and polls have proved that black color is highest in demand when it comes to clothes. There are many different reviews regarding the color choice and the reasons behind it. I believe that black color makes a statement and is a very sexy color. Black is a confident color and an easy one as well. When you get up and look at your wardrobe and you see a messed up pile of clothes and the question arises 'what to wear', the easiest one to go for is a black top and a pair of jeans.
So black also is a time and life-saving color. Everyone has at least 2 to 3 black T-shirts in their wardrobes and eventually people end up wearing them often than their other T-shirts. So when you are getting ready for work or college and confused about what to do with the black t-shirt of yours, as you want to wear black but look stylish at the same point too. So we have taken the burden of your confusion and listed five ways of wearing your black t-shirt.
On a black T-shirt wear a color blazer
It is a plus factor that a blazer of any color will look amazing on the black t-shirt. Pastel or dark, black just blends in all of them and this factor makes it favorite of all. A black pair of black jeans a black t-shirt and a blazer, and darling don't forget to wear heels of the same color as the blazer and you are ready to rock my girl.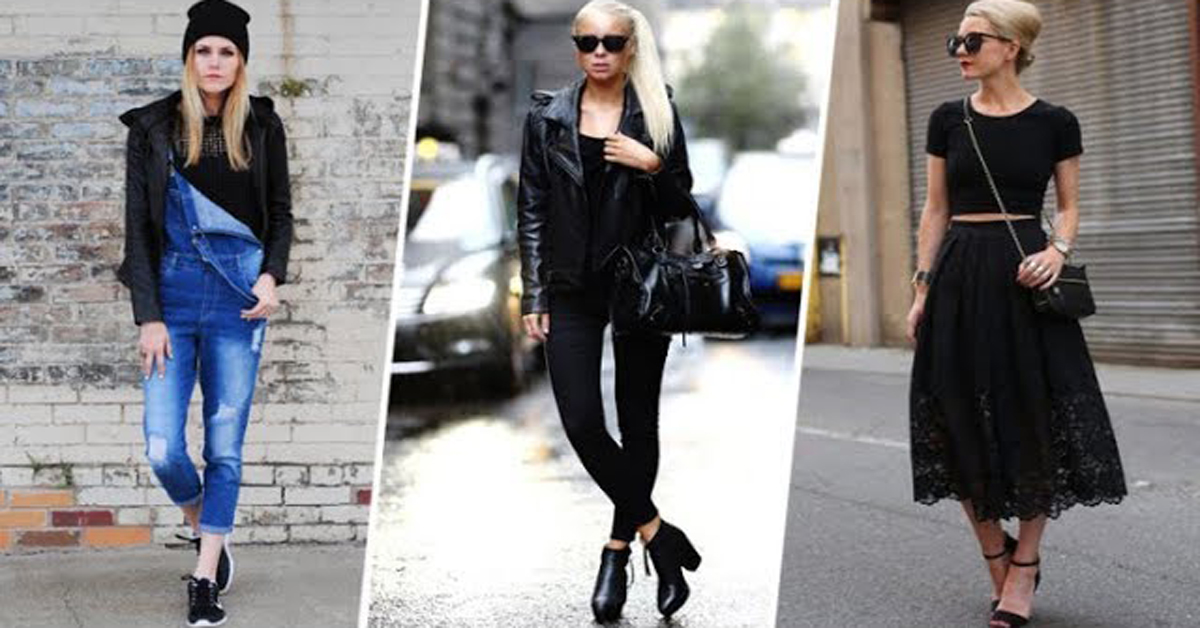 Wear a shrug on you tee
If you are a girl who likes boho looks then a shrug on your black t-shirt will just do it all. Black, fortunately, is a universal color so it opens the door of lots of options for you. You can go for a striped collared shirt on your black t-shirt or even a good printed shirt. Pair the shrug with a pair of jeans or boyfriend jeans and sneakers and your boho look is on.
With shorts and heels
Thinking of how to style your black t-shirt in an attractive way? Why not go for a pair of sexy shorts and heels with it. The black t-shirt is just a plain t-shirt until you pair it in a sexy way. So if you are going for a party or even an outing in the evening, a pair of shorts with a black t-shirt and a pair of heels of bright color will look really outstanding. You can wear denim shorts with your black t-shirt, denim just looks amazing with black t-shirts.
Midi skirts with black t-shirts
Pointed-toe heels, black t-shirt and either a black midi skirt or any color skirt will give a marvelous look. This is formal as well as an outing look. You can also knot your black t-shirt on the midi skirt as it will give a casual look.
Denim with a black t-shirt
Denim can never be out of trend or fashion. Denim and a black T-shirt is a lifesaver as you don't have to stress about what to wear. Choose a good pointed pair of heels to wear under the denim. The color red will look amazing. Go for only bright colors of heels.