How To Make Perfect Front Puff Hairstyle : From renaissance period with large proxy puffs to late 90's with peculiar puffs, Puff hairstyles have gained recognition and prominence around the world. You can have vertical puffs or side puffs over your head. It can have it front or on the sides of your head but a front puff is an ideal way to make your puffs look great because it easily matches faces of different shapes and sizes.
You will undoubtedly be noticed with this amazing puff as soon as you walk down the streets. In this article, we list simple and easy to follow step by step process of making front puff hairstyle, all you will need is patience and time to complete this amazing hairstyle. Here we have given some more details about perfect puff hairstyles, take a look at these hairstyles and give your feedback's.
Why front puff hairstyle?
The front puff gives you a sense of illusion and more charisma apart from completing the appearance of your face. It is very adaptable, you can style it small or big and can easily be braided at the top. Regardless of your hair, this style will certainly be perfect for you. It doesn't matter the size of your hair. One good thing about this hair style is that you can easily mingle it with a French pleat or ponytail, or you can use a pin to secure your puff and keep the rest of your hair loose, and everybody will be amazed by your looks. Besides, this hairstyle is ideal for casual dinner, wedding or any meeting you are planning to attend. When your hair are out of place, puff hair is ideal way of keeping them intact. Front puff hairstyle is becoming very common among many young women as well as celebrities. It requires less time to put your hair together and come up with an incredible puff hair.
Additionally, it looks sophisticated, elegant and extremely fashionable. Below is an easy to follow procedure on how to make front puff hairstyle.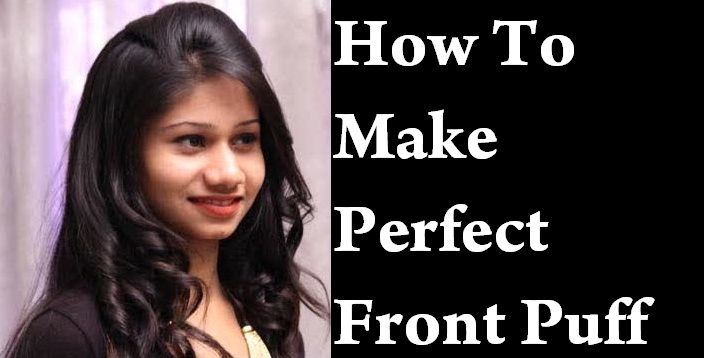 What You Will Need
1. A Comb
2. A Tiny Clutch/Bobby Pins
3. Hair Spray (When making a combination with another hairstyle)
How to Make Front Puff Hairstyle
Step 1. Comb your hair
Comb your hair thoroughly, and ensure it is well untangled.
Step 2. Section your hair
Gather some part of your front hair, and move it backwards. The width you intend to choose will vary depending on the shape or structure of your face. Ladies with oval faces can gather a larger section of hair to make their puff look broader. For ladies with round face, pulling a smaller part of their hair will balance the outline of the puffs. You can as well section your puff to match the breadth of your eyebrows.
Step 3. Roll the section
It's recommended that you roll your hair around two to three times. This is because rolling it over three times possibly will tighten it than required. Rolling your hair will ensure the puffs are intact, and also give it a nice shape.
Step 4. Push you hair forward
Push your hair towards the front with a roll to act as grip. Continue pushing till your hair puffs up. You can draw the puffs of any height depending on your desire. The more you push the higher the puff you get. Just be careful during the process to prevent your hair from getting disorderly.
Step5. Keep the puff intact
Use a bobby pin or tiny clutch to keep the puff in one piece. If you making a combination with a different hairstyle, you can apply some spray. If not, don't make an attempt of using it.
Final Verdict
After reading through this step by step tutorial, making this amazing puff hairstyle by yourself or at home will be an easy task for you. You only need to stay committed for some minutes to give yourself a unique and gorgeous appearance with this hairstyle. Though it may look complicated, following these steps will not only make the process easier but make it interesting as well.